TaskClone already gets your Evernote tasks easily into Asana. If you're new to TaskClone, sign up, see our Asana video, and view our Asana initial setup tutorial.
With features announced last month, we've gone even further with 3 new tricks that add more flexibility to getting Evernote todos into Asana.
Sending tasks to a specific project
With our 14-day free trial or Premium TaskClone account, you can set up to 5 different Destinations for tasks. Each Destination is represented by a Destination email (e.g. [email protected]) and a tag created in your Evernote account. Because Asana allows you to send tasks directly to a specific project email address, you can create a Destination/Evernote tag for a specific Asana Project (e.g. toClientX)
Once setup, instead of using the tag you would normally use to send tasks to your Asana inbox (e.g. toAsana), you choose the tag for your specific project (e.g. toClientX). All todos in that note will become tasks in your specified project.
See the screenshots below for details.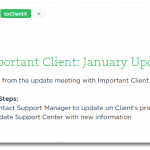 To find the unique email address for your Asana project (e.g. [email protected]), please visit the Asana User Guide Instructions. You can use TaskClone to create the desired tag in your Evernote account and then simply enter the project email address in TaskClone as the Destination email.
Sending tasks to a specific tag
Using the same method, you can send Evernote todos to a specific Asana tag. This could be useful if your team is tracking tasks across projects based on their Asana tag. Like projects, Tags in Asana have a unique ID (and therefore email) which you can find using the Asana User Guide Instructions.
Assigning a task to a team member
One of the great things about Asana is the ability to easily work in teams. With TaskClone, you can associate a Destination/Evernote tag with up to 2 Asana team members who will be assigned any tasks from that note. Just add the team members' email to the Destination Email separated by commas. Provided you've added these team members to your Asana organization, workspace or project, Asana will know to assign the tasks to them when it receives our email.
See screenshots for details.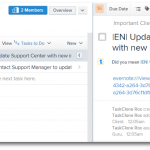 If you ever want assistance with setup, please contact us.